Lenovo-NetApp partnership targets rivals Dell and HPE
Lenovo and NetApp go after Dell and Hewlett Packard Enterprise with a multiyear partnership to bolster enterprise storage offerings and create a joint venture company in China.
Lenovo and NetApp took aim at rivals Dell and Hewlett Packard Enterprise, or HPE, with their new multiyear partnership to codevelop Lenovo-branded storage systems and create a joint venture company in China.
The first fruits of the deal are two NetApp-based products sold under the Lenovo brand: the ThinkSystem DM Series All-Flash Array and the ThinkSystem DE Series Hybrid Flash Array. The DM Series mirrors NetApp's FAS and AFF A-Series product lines, and the DE Series consists of NetApp's E-Series. Lenovo will resell the most high-end model of the A-Series line as a NetApp-branded product, according to Kamran Amini, vice president and general manager of data center infrastructure at Lenovo, based in Morrisville, N.C.
The Lenovo-NetApp agreement gives Lenovo access to the technology and supply chain of a top storage vendor, and it will help it expand beyond PCs and servers into the broader data center market. Lenovo revealed the partnership today at its Transform 2.0 conference.
Amini said the partnership with NetApp would enable Lenovo to go after more than 90% of the total market, with an "end-to-end storage portfolio" and hybrid cloud data services.
"And, of course, our goal is the ability to go attack Dell and HPE and bring a different value and choice for the enterprise customers," Amini added.
Dell and HPE compete with NetApp in the storage market and Lenovo in servers.
What's in it for NetApp?
Brad Anderson, senior vice president and general manager of cloud infrastructure at NetApp, based in Sunnyvale, Calif., said the agreement gives his company access to Lenovo's "high-volume velocity channel" and experience in the Chinese market. He said NetApp is "underpenetrating" both the small and medium-sized enterprise space, as well as the fast-growing Chinese market.
"And it's not lost on me that Lenovo is a fast-growing server vendor, clearly in the No. 3 position. We're selling more complete solutions, and the other server vendors happen to be our competitors," Anderson said.
Ashish Nadkarni, an analyst in IDC's infrastructure practice, likened the Lenovo-NetApp deal to past deals between storage and server vendors. Those deals include Dell's agreement to manufacture and sell EMC Clariion arrays and IBM's reselling NetApp NAS as the IBM N Series. Dell and IBM eventually ended those partnerships, although Dell now owns all of EMC after its 2016 blockbuster acquisition.
"This is quite a big deal, as the last two large OEM vendors in their respective markets — servers and storage — are partnering to take on the top vendors," Nadkarni wrote in an email.
Patrick Moorhead, an analyst at Moor Insights and Strategy in Austin, Texas, said the Lenovo-NetApp partnership is important for both vendors, as more enterprises look for systems instead of "point solutions."
"Big data is driving sales, and that requires the right combination of compute and storage," Moorhead wrote in an email. "NetApp gets better China access, and Lenovo gets better access to western large enterprises and some manufacturing scale."
Lenovo-NetApp partnership yields new ThinkSystem models
Lenovo won't simply rebrand and resell the NetApp arrays. Lenovo gains access to NetApp's hardware suppliers and core OnTap software, and the company will assemble, test and inspect the finished storage products at its own factories, which are located in the U.S., Mexico, Brazil, Europe and China, according to Amini.
"We have a massive supply chain across our business at Lenovo. Tomorrow, it could be a different story. But, today, we're leveraging the same suppliers," Amini said.
Lenovo is also extending its XClarity Administrator management software to work with the NetApp-based products, Amini said. Lenovo's XClarity is designed to manage server, networking and storage resources.
"The same products from NetApp and Lenovo will have some subtle differences, but they will all be based on the core OnTap and all the data fabric elements, like SnapMirror, and others where you can move data between two OnTap systems. You will be able to do that transparently between a Lenovo-branded product and a NetApp product," Anderson said.
List pricing starts at $25,000 for the ThinkSystem DM Series at a capacity of 48 TB, and it starts at about $7,700 for the ThinkSystem DE Series at a capacity of 4 TB. The ThinkSystem DM and DE product lines will be available in the 160 countries where Lenovo operates, with full service and support, Amini said.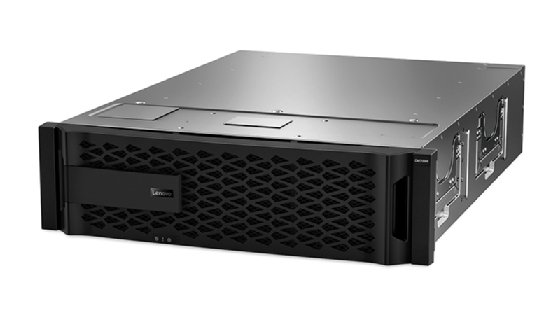 Lenovo's storage portfolio has been limited to date. Through its 2014 acquisition of IBM's x86 server business, Lenovo is an OEM manufacturer and reseller of IBM's Storwize storage product family. Lenovo also sells storage arrays based on Seagate's Dot Hill acquisition and has struck other deals in the past few years.
Amini said Lenovo would continue to sell and support IBM Storwize systems under the V Series brand name and Seagate's Dot Hill arrays through its ThinkSystem DS Series line.
The products that Lenovo and NetApp will manufacture and sell through the new joint venture in China will be "localized for the unique requirements of the Chinese cloud ecosystem and security," Anderson said.
source:https://searchstorage.techtarget.com/news/252448654/A-Lenovo-NetApp-partnership-targets-rivals-Dell-and-HPE?src=5791252&asrc=EM_ERU_100347779&utm_content=eru-rd2-rcpD&utm_medium=EM&utm_source=ERU&utm_campaign=20180914_ERU%20Transmission%20for%2009/14/2018%20(UserUniverse:%202647794)